From The Guardian Online:
Wildcat strikes, walkouts and protests over working conditions have erupted across the US throughout the coronavirus pandemic as "essential" workers have demanded better pay and safer working conditions. Labor leaders are hoping the protests can lead to permanent change.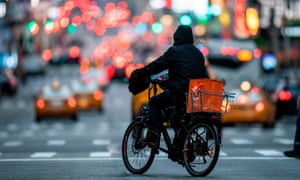 Norma Kennedy, an employee at an American Apparel clothing plant is one of those people. Kennedy along with dozens of other workers walked off her job in Selma, Alabama, on 23 April after two workers tested positive for coronavirus. The plant has remained open during the pandemic to manufacture face masks for a US army contract.
"We left for our own protection," said Kennedy. "Beforehand, management said if someone tested positive they would shut down and have the plant cleaned. When workers tested positive, they didn't want to shut it down. They're not really concerned about the workers."
Working conditions, low pay and lack of safety protections have triggered protests throughout the pandemic as workers across various industries, including food service, meat processing, retail, manufacturing, transportation and healthcare have come together to protest about issues, many of which were apparent before the coronavirus.
"There are no federal mandates or requirements to implement the social distancing guidance or anything else. It's only guidance and employers can choose to implement them or not," said Deborah Berkowitz, director of worker safety and health for the National Employment Law Project. "And that is why, in an unprecedented way, they are walking out to bring public attention to the fact that their companies are not protecting their safety and health."
Read the complete article here.